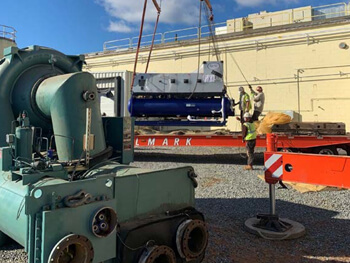 For decades, EMCOR Services Northeast has offered single-source facilities services solutions, including HVAC, mechanical, and electrical engineering, design, installation, repair, and maintenance. Our customers can be found in a variety of market sectors, including financial, healthcare, technology, and education.
Whatever the environment or system, we have the experience needed to provide the reliable, non-disruptive service necessary to help maintain comfort, productivity, and maximum energy efficiency.
Boston's Trusted Service Provider
We are one of the largest independent service contractors in metropolitan Boston and among the nation's top mobile/mechanical services providers. We offer a variety of services designed to assess the unique needs of your facility and promote lower energy costs and superior operation.
Whether we're analyzing your overall systems or measuring the effectiveness of specific components, the goal is always the same—to support facilities that function better, at lower cost, over a longer period of time.
Certified, Experienced Professionals
We employ a team of licensed and certified technicians who bring years of experience, extensive service expertise, and a thorough knowledge of HVAC, plumbing, building automation, and other systems to every assignment. By providing constant training and development opportunities, we stay up to date on the industry's latest innovations.
By blending outstanding capabilities with leading-edge technology and exceptional customer care, we help clients keep their buildings in peak condition for dependable operation and full lifecycle value.
Contact us today to help you get the most from your facility.